Heirloom tomatoes, swimming and it's HOT, OH MY!
So today was another good day. Started out with lounging around watching cartoons with Tisha this morning, then got up and went to dollarama. We found some cool pots for putting tomatoes into on the patio and a candle to put on Amy's grave. Drove up to the cemetery and walked around there looking at old graves for a while.. it's such a sobering thought that so many people lost so many babies.. there are three gravestones I have found so far with 3 or 4 babies on one stone... I'm so grateful that I live in the time I do and most of my children have made it past babyhood!
On the way back I found a really neat garden centre (midway on 4th ave) that offers heirloom varieties of tomatoes! I picked up four, "Black Prince", "Mr.Stripey", "Cherokee Purple", and "Green Zebra." I'm pretty excited about that because the chickens ate half of my tomato plants and they were all heirloom and I really wasn't sure if the new ones would grow fast enough to replace the ones I lost. I also found the elusive Celery plant I've been looking for... for some reason no one has had celery this year.
After the garden centre I drove out to Fort Erie to drop off a friend and then back to my sister in law's for a swim. The cool water was a much appreciated break from the heat of the day.
So if you're interested here's some pics of the tomatoes I picked up today. I"m pretty excited to be growing something other than Roma's for once!
Green Zebra
"Developed in 1985 by tomato breeder Tom Wagner, this is an unusual and exquisite green tomato chosen by Alice Waters for her restaurant, Chez Panisse, in Berkeley, California. The 2-inch round fruit ripens to a yellow-gold with dark-green zebra-like stripes. The flesh is lime-emerald in color that has an invigorating lemon-lime flavor. A great green tomato for brightening up salads and other tomato dishes. Try our Green Zebra Tomato Seeds for your tomato garden and enjoy a wonderful addition of color to your salads and sauces."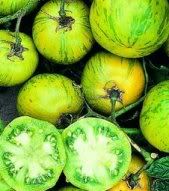 Cherokee Purple
"Heirloom from Tennessee cultivated by Native American Cherokee tribe. Very productive plants producing loads of dusky rose to purple colored, 12 oz.-1 lb., beefsteak tomatoes with deep red colors to the interior flesh and dark shoulders. A very popular market variety because of it's rich, complex and sweet flavors. One of the best tasting heirloom tomatoes."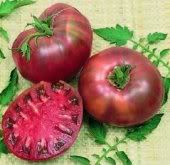 Mr.Stripey
"Mr. Stripey is a type of heirloom tomatoes with unusually small leaves and a mix of a yellow and red color that can fool some growers into thinking they are picking an unripe tomato. Under good conditions in size, shape and internal structure it may be considered a "beefsteak". Like other heirlooms, Mr. Stripey has an appearance that differs considerably from other tomatoes. In coloration it is generally somewhat more yellow near the stem and more red towards its underside, with gentle stripes of red and yellow blending into each other along the sides. This coloration may extend into the interior of the fruit, which tends to be more yellow than red.
When conditions are right and the fruit is fully ripe the taste will be surprisingly sweet and mild, superior to most store bought varieties. The mild character of the tomato flavor is best used where it is intended to blend in with other flavors such as in a pasta sauce or salad. The flavor in good conditions and when fully ripe is pleasingly sweet when sliced raw - excellent for hors de ouvres. The ripe flesh is soft, juicy and extremely tender."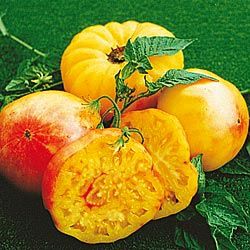 Black Prince
"
Originally from Siberia, this is one of the most popular and favored black tomatoes. Originally introduced from Irkutsk, Russia and is regarded as a "true Siberian tomato" that does very well in cooler climates. Until only recently this was considered a rare variety in the United States. However, it's popularity has grown so much in Russia that there is now a company in Volograd that is producing an extract of the Black Prince called "Black Prince Tomato Oil." The Black Prince tomato is said to have considerable health benefits beyond the presence of lycopene.
These deep garnet round, 2-inch (2-3 oz.) tomatoes are full of juice and incredibly rich fruity flavors. This is a tomato that chefs I deliver to rave about for it's rich flavors. The small fruits contain deep rich colors on the inside. Perfect for patio gardens. Perfect for eating fresh, and in cooking in tomato sauce or other culinary wonders."