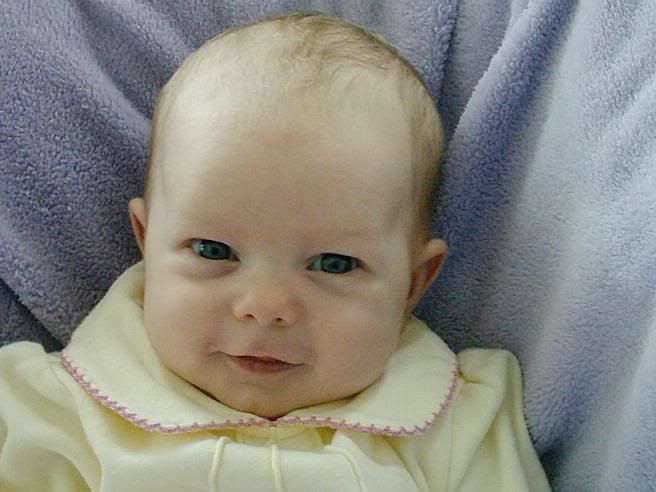 Thought I'd post a pic of Tisha's gorgeous smile for ya! Isn't she adorable! I could just waste entire days staring at her...
Well.. it's been a busy week. Yesterday was a snowday for the kids.. thank god I have nice neighbours.. and they have a snowblower.. we'd still be digging out now if it wasn't for them.. I think I'll make them some cookies.. especially after the little jacket they brought over for Tisha the other day.. purple eeyore jacket.. made out of the same fabric as her favorite blankie! So since I had the day off of driving around like usual yesterday I spent the day painting the kids rooms. I did Tisha's in yellow and the boys wanted all the walls different colors.. so they have two yellow walls a green wall and a blue wall :) it looks pretty good but definitely needs a second coat of paint. I had no idea just how dark the paint that was up actually was.. until I put this stuff on top and saw the contrast.. their rooms look so much bigger and happier now. The boys want a mural on the one wall.. so I'm going to do the blue wall.. add some clouds, a rainbow, a tree.. grass.. gotta think what else to add in there.. I'm going to do one in Tisha's room too.. it's just too bare all yellow.. it's crying out for some art.. so I'm going to do a palm tree and some animals around where her toys are and over her change table, to match her bedding.
I was happy to find some doll clothes at please mum that fit my cpk's so I picked the kids each up a new outfit for their cpks.
Rocky looks especially cute in his little camo sweater..Just like his "dad" Andrew.. lol